Bamfield Real Estate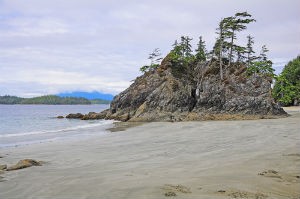 The community of Bamfield is settled in along the south shores of Barkley Sound amidst crown land and aboriginal reserves. Once populated by the Huu-ay-aht of the Nuu-chah-nulth indigenous people it grew into a small fishing village by the 1800s.
Amidst the colourful seaside life, and Bamfield real estate, are several renowned sports fishing lodges that pursue salmon and halibut. As well as angling, the area is also well known as the northern destination at the end of the 77 km West Coast Trail. This is a diverse and challenging wilderness trek that lures many outdoor adventurers to its wooden walkways, rock-faced ladders and beach campouts every year.
The Views From Bamfield Waterfront Homes
The town is known for its rugged beauty as well as its warm hospitality and for homeowners seeking an escape from urban life there's no better place to find sanctuary than with Bamfield waterfront homes. From wood A-frame cottages in the woods that boast energy efficient features and large sundecks, to waterfront retreats with workshops, guest cabins and docks for business or multi-family purchases.
Find traditional one storey homes at affordable prices or two storey oceanfront estates with vaulted ceilings, picture windows, rock fireplaces, sunken hot tup and wraparound patios with outdoor barbecue areas. The coastal outdoors is your own backyard with Bamfield properties.
The West Coast Beauty Of Bamfield Real Estate
Bamfield gained its name from the first government official in the area, William Eddy Banfield. By the 1900s, a cable station had been constructed here as the western terminus for a global undersea telegraph cable. The concrete building of this facility is a designated historic site and now used as the Bamfield Marine Sciences Centre. This center attracts experts from around the world and offers credited university courses through its five associated universities and with its outreach programs brings thousands of visitors into Bamfield every year.
Today the community around Bamfield real estate enjoys plenty of modern conveniences, unique cafes, boutique shopping and a rural, laid-back lifestyle on the shores of some of BC's most pristine lands, in the very heart of Canada's Pacific Rim National park. Seek out the rainforest trails, take in world-class scuba diving, walk the shores of deserted beaches as you watch for whales and heritage landmark totem poles while eagles soar above.